Documents available for purchase and free download are listed on this page.
If you would like to book a consultation, please contact me for further information and availability.  If you book and pay for a consultation, you will get these and other support resources for free!
If you have requested or purchased any of these documents and the email receipt with links for downloading them doesn't show up, please get in touch through the website contact form or by emailing help at sallyknorton.com.
Support Resources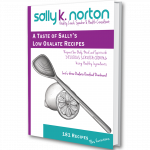 A Taste of Sally's Low Oxalate Recipes is your guide to throwing oxalate overload overboard! Get your copy now and find out how delicious it can be to feel better!
The Beginner's Guide is a colorful three-page document that explains the basics for getting started with oxalate-aware eating. The Guide answers common questions about the purpose, safety, and flexibility of this…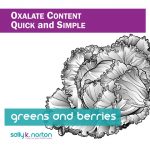 Contains accurate information on food oxalate content for greens and berries that is simple to understand and use. Not all greens and berries are high in oxalate, but some are!
Free Downloads