Learn How Oxalate Overload is Making You Sick—and How to Get Better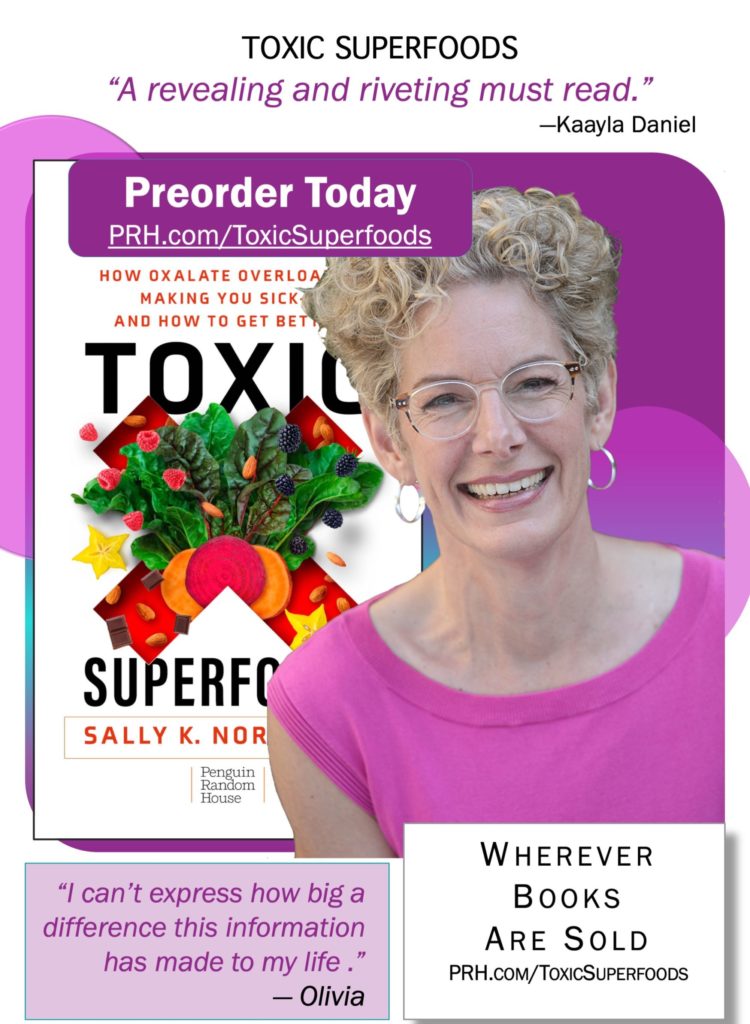 Pre-Order Toxic Superfoods from any bookseller on the planet
Place your Pre-Order now! for delivery December 27, 2022
Audio and eBook formats also available.
Toxic Superfoods is a masterful contribution to the literature on nutrition. Here you will find a sweeping examination of oxalates from all angles—medical, scientific, historical, dietary, and cultural. You'll learn why oxalate toxicity has remained invisible in medical and nutritional practice, and discover a simple and practical program to get relief from the myriad conditions that oxalate toxicity can create and aggravate.
Readers will be inspired to change their diets and contribute to a groundswell that leads the medical establishment to take a closer look at oxalates. It's impossible to read this book without coming away convinced of the benefits of some simple changes to your diet.
Check back for updates to this page and elsewhere on my website as the publication date gets closer. Remember to save your receipt or order confirmation number, because a pre-order bonus is coming by mid-November.
Place your Pre-Order now!
Praise for Toxic Superfoods
"Who knew that some so-called superfoods could be the opposite of healthy? I'll never forget when my 21-year-old friend who drank daily spinach and almond-milk smoothies came down with a kidney stone. Sally Norton's well-researched book makes a truly important contribution to the literature in revealing just how much oxalates can damage the human body. The conventional advice to eat "mostly plants" is seriously challenged by the reality that plants contain known toxins. Norton makes a compelling case that oxalates are the x-factor contributing to many mysterious health conditions,"

—Nina Teicholz, author, The Big Fat Surprise
"One conversation with Sally Norton transformed my health. Thankfully, she has shared her life's work about the dangers of oxalates in our diets with the world through this book. Everyone needs to hear her message."

—Dr. Bill Schindler, author, Eat Like a Human