Learn How Oxalate Overload is Making You Sick—and How to Get Better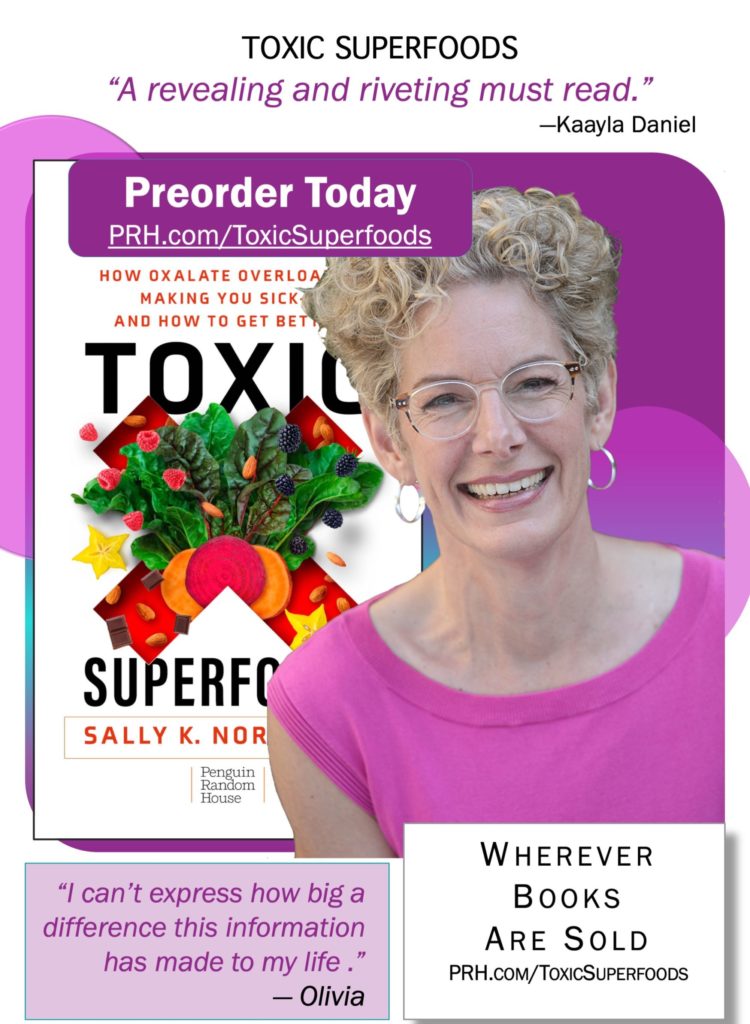 Toxic Superfoods is available to purchase now from most booksellers.
If you would like to pre-order through Amazon in the United States, please use this Amazon Affiliate Link and I'll get an extra credit.
You can also ask for Toxic Superfoods at your favorite in-person bookseller, and ask your public library to order it. Audio and eBook formats also available.
How to get the "Accompanying PDF" for the Audiobook…
If you're ordering in Europe, please use someone other than Amazon. Amazon Europe has made the decision to stop purchasing books from Random House due to the environmental impact of printing and shipping books from the US to the EU. Other European distributors are still carrying it.)
Overview of Toxic Superfoods
Toxic Superfoods is a masterful contribution to the literature on nutrition. Here you will find a sweeping examination of oxalates from all angles—medical, scientific, historical, dietary, and cultural. You'll learn why oxalate toxicity has remained invisible in medical and nutritional practice, and discover a simple and practical program to get relief from the myriad conditions that oxalate toxicity can create and aggravate.
Readers will be inspired to change their diets and contribute to a groundswell that leads the medical establishment to take a closer look at oxalates. It's impossible to read this book without coming away convinced of the benefits of some simple changes to your diet.
Check back for updates to this page and elsewhere on my website. We are working hard on a reliable data guide to food oxalate content, but it's a big project (as you'll see when it's ready). Check back here, or subscribe to my email list to hear when it's available.
Guide to Food Oxalate Content
I mentioned my forthcoming guide to oxalate food content in Toxic Superfoods. Originally, I wanted to include data tables in the book, but we didn't have room for the comprehensive version, so I limited the tables to the most important foods for managing oxalate intake. I am still working with my data helpers to update, format, and check the list, and to make sure that it contains as much useful, fact-based information as possible.
My apologies for the delay to everyone who is eagerly waiting for more detailed data (though having such data is not as useful as you are probably hoping). We will be publishing the guide soon (after we finish the latest round of updates). We sincerely hope that you will find it worth the wait! Check back here, or better yet, subscribe to my newsletter so you can be among the first to hear about it.
Praise for Toxic Superfoods
"Who knew that some so-called superfoods could be the opposite of healthy? I'll never forget when my 21-year-old friend who drank daily spinach and almond-milk smoothies came down with a kidney stone. Sally Norton's well-researched book makes a truly important contribution to the literature in revealing just how much oxalates can damage the human body. The conventional advice to eat "mostly plants" is seriously challenged by the reality that plants contain known toxins. Norton makes a compelling case that oxalates are the x-factor contributing to many mysterious health conditions,"

—Nina Teicholz, author, The Big Fat Surprise
"One conversation with Sally Norton transformed my health. Thankfully, she has shared her life's work about the dangers of oxalates in our diets with the world through this book. Everyone needs to hear her message."

—Dr. Bill Schindler, author, Eat Like a Human