The Beginner's Guide is a colorful three-page document that explains the basics for getting started with oxalate-aware eating. The Guide answers common questions about the purpose, safety, and flexibility of this ea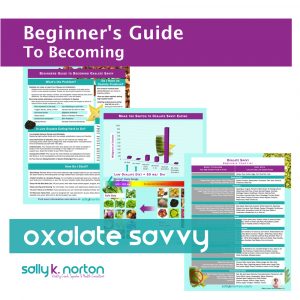 ting strategy. Page two visually presents an overview of the problem, its solution, and defines a low oxalate diet. Page three features a useful and accurate list of worst offender and safe bets foods to help you learn the basics of a lower oxalate intake.
By buying the Beginner's Guide for $2.50 you'll be helping to keep this website going. Thanks. Have fun eating a less toxic diet and living in a better body.
Wait! Before you click the button to pay $2.50 for the Beginner's Guide:
You can get it for FREE if you buy my cookbook
You can get it for FREE using a discount code that you'll get in a couple of weeks when you sign up for my email list (if you buy the Beginners Guide anyway, you can use the email list discount code on my Cookbook or Data Products)
You can get it for FREE by joining an online group