If you're ready to make the switch to a healthy, low-oxalate diet, I have good news: it's a delicious journey! My PDF Cookbook can show you the way.
Low-oxalate eating may seem confusing at first—especially if you're already dealing with challenging food allergies. Unlike some of the fad diets, you won't find low-oxalate options on the menu of your favorite restaurant, and until now there haven't been many cookbooks to show you the way at home.
[New: If you buy the Cookbook PDF, you'll also get a free link to the Beginners' Guide to Becoming Oxalate Savvy!]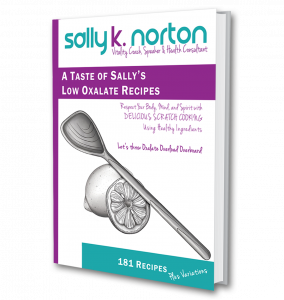 A Taste of Sally's Low Oxalate Recipes is a PDF cookbook for people who want to eat real food and who care about taste, pleasure, and variety at mealtime. In these pages, I'll explain some of the science behind low-oxalate cooking and share tasty options for nourishment without relying on high-oxalate ingredients—and without wheat, gluten, soy, and other common allergens. This easy-to-understand road map includes:
181 delicious recipes with step-by-step instructions, and many color photos
Basic tips on how quickly you can safely reduce oxalates in your diet
A simple guide to swapping low-oxalate foods for your current high-oxalate choices
Basic techniques to make low-oxalate foods delicious
Low-carbohydrate foods and treats suitable for "keto" diets
Keeping It Simple
You don't have to be a gourmet cook to make low-oxalate foods—all you need are a willingness to try something new, basic kitchen skills, and standard kitchen equipment. With my recipes, you'll learn the basics of low-oxalate cooking and eating:
How to make and use moderate quantities of broth and other simple building blocks for creating impressive and delicious meals.
Basic techniques so you maximize your flexibility and creativity. These recipes will help you create a personal eating style you can stick with and share with friends and family.
Have fun and success figuring out what to do with unfamiliar low oxalate ingredients.
Explore low oxalate recipes that are safe for people with allergies. Every recipe is gluten- and soy-free. I've included options that are nut-free, dairy-free, and egg-free, so you can confidently cook for anyone. (Even your vegan friends will be glad to learn there are low oxalate options for them too.)
Recipes for Every Occasion
Low oxalate cooking doesn't mean sacrificing flavor and variety. From appetizers to smoothies to entrees and desserts, my low oxalate recipes cover everything from a casual breakfast to a gourmet dinner party. Recipes include:
Carbonara Sauce
Indonesian Avocado Nog
New York Vanilla Egg Cream
Mint Cilantro Chutney
Neufchâtel Hollandaise Sauce (egg-free)
Eggs Baked in Bacon Rings
Ginger Mussels in Coconut Broth
Slow-Roasted Leg of Lamb
Kibbeh
Chicken Liver Pate
Cilantro-Garlic Chicken Soup
Green Cabbage with Apples and Onions
Whipped Garlic Cauliflower Topping
Curried Zucchini Soup
Rice Pudding New England Style
Pineapple Coconut Bark
And over 140 more!
A Taste of Sally's Low Oxalate Recipes is your guide to throwing oxalate overload overboard! Welcome to delicious low-oxalate eating. Get your copy now and find out how delicious it can be to feel better!