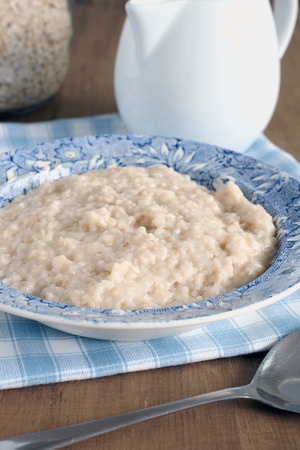 Soaked / Lightly Fermented is the best way to prepare grains.
For digestibility, assimilation and nutritional benefit, grains (including breakfast porridge) should be soaked overnight or longer. With this method, the oats are set up to soak in acidified water for 8 – 24 hours. The setup is quick and easy to do after dinner or before bed.
Avoid over-reliance on starches and grains such as rice, corn, and oats. Eggs, fish, kefir, soups, cooked winter squash, and left-overs are more nutritious alternatives.
Oatmeal Porridge
Servings: 3
Time: set-up 8+hours ahead
Difficulty: Super Easy
Combine in a thermos, small sauce pan, or covered bowl:
1 C organic rolled or cracked oats

1 C warm mineral water or filtered water

2 T whey (liquid drained from yogurt)
or 1 T lemon juice or rice vinegar
Allow to sit at room temperature for 8 – 24 hours.
15 minutes before serving, boil:
1 C mineral water or filtered water combined with
½ tsp. mineral salt such as Real Salt® or Himalayan Pink Salt dissolved in it.
Combine the soaked oats and the boiling salted water, let sit for 5 – 10 minutes.
Or, if you like you oats very squishy, heat and simmer for 3 minutes. Allow to sit for 5 minutes.
Serve with butter and cream or half-n-half.
Additional toppings: stir in sprouted flax seeds, or sprinkle top with coconut flakes or sprouted pumpkin seeds.