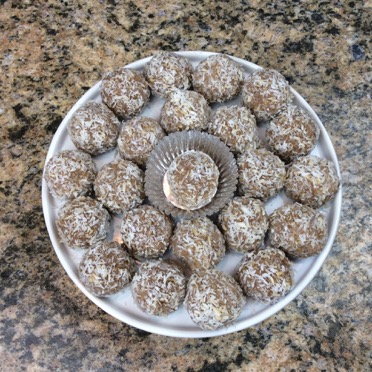 Here is a fun way to add a bit of needed healthy fats to your diet, and treat yourself in the process. The truffles have just a hint of sweet. They must be chilled. These can be made into "egg" shapes for spring time.
Coconut Truffles with Watermelon Seeds and Pineapple
Servings: 10; 20-25 truffles
Time: 25 minutes
Difficulty: Medium
Estimated oxalate content is 1.5 mg total oxalate per truffle (3 mg/ serving)
Ingredients
3/4 C raw, sprouted watermelon seeds with salt (3 oz.) (Go Raw brand)
1 C unsweetened finely shredded coconut, lightly toasted, divided (3 oz.)
1 oz. unsweetened dried pineapple, chopped (cut with scissors)
⅓ C cold butter or ½ C cream cheese
⅓ C coconut butter (Coconut manna) (3 oz.)
2 Tbls. Date Lady Brand Date Caramel Sauce
or 1½ T dextrose
¼ tsp. almond extract (opt.)
Instructions
Set aside on third of the toasted coconut in a wide shallow bowl for rolling, later.
Place the watermelon seeds in food processor with metal blade. Run the machine until the seeds become pasty.
Add the chopped dried pineapple. Pulse the pineapple and seeds to combine and reduce the pineapple to very fine bits.
Add the remaining ingredients, except for the coconut, run the food processor until everything is well combined.
Add 2/3 of the toasted coconut flakes, pulse to mix. Remove truffle dough to a covered bowl and place in the refrigerator for 15 – 20 minutes or in the freezer for about 5 minutes.
Use a small cookie baller to make balls (1 tsp. of batter each) Roll in the coconut.
Refrigerate to set them and let the flavors mingle. These are best if they are made a few days in advance.
Serve at a cool temperature. Don't leave them in a hot car, or they will melt.
They will keep for about 10 days in the refrigerator, or for a year in the freezer if tightly packed in an air-tight container.