Drained yogurt is sometimes called yogurt cheese. Fresh herbs from the garden make these vibrant. Dips are great with carrot and celery sticks. Serving two different dips simultaneously makes for more interest. If your drained yogurt cheese is very thick and stiff, this can used as a spread or a filling. Use whey to adjust the consistency. Try using these to convert left-over chicken or beef into a salad. To convert these dips to salad dressing for a green salad: add 2 T while wine vinegar and 4 T olive oil.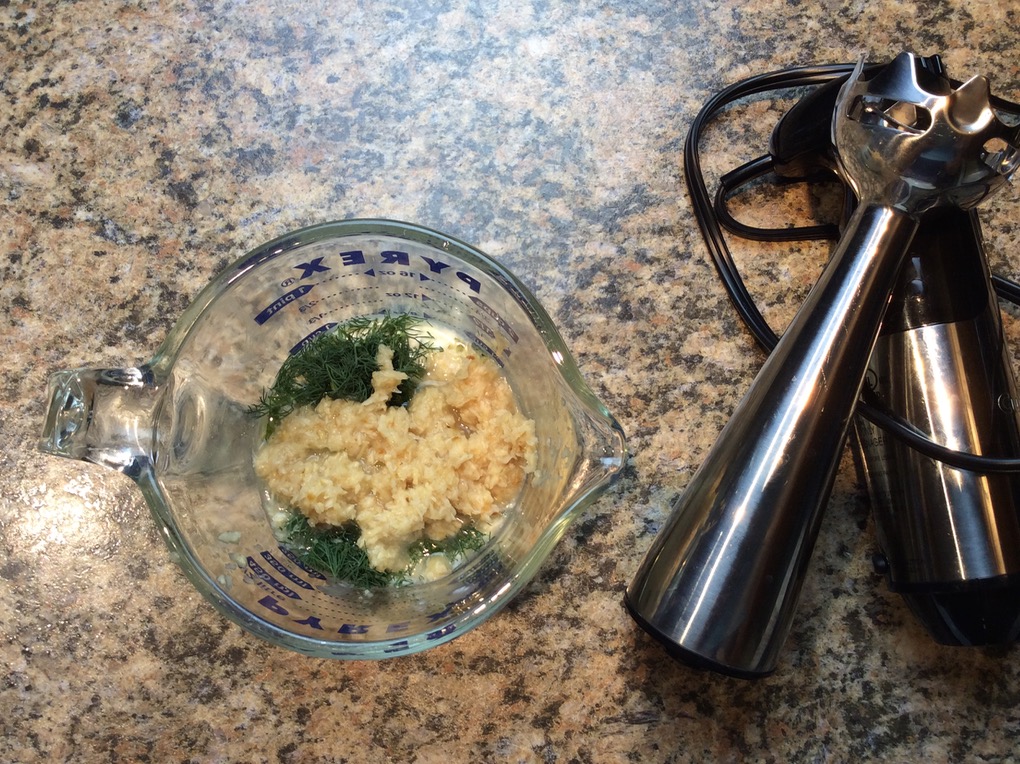 Herbed Yogurt Dip
Servings: 10
Time: 15 mins prep (24 hours for draining yogurt
Difficulty: Not too hard
Ingredients for Garlic-Dill Dip
1 T Parmesan or Romano Cheese, 2 tsp. fresh dill, minced or ½ tsp dried
½ tsp. salt
1 large or 2 small garlic cloves, peeled and crushed (or use 1 T garlic-infused olive oil)
Pinch white pepper
Instructions
In 2-cup glass measuring cup, mix the seasoning ingredients together with
¾ cup of drained yogurt cheese.
Do this at least 30 minutes prior to serving.
After flavors have mingled, a bit, adjust seasoning, adding more drained yogurt, if too strong.
I suggest using a stick blender to mix the chive-herb dip.
Dill Dip variations:
1. Blue Cheese Dill-Thyme Dip: Cream 3 T blue cheese and add dill dip ingredients, substituting a pinch of crumbled dried thyme for the half of the dill
2. Cucumber Dill Dip: add drained, finely grated cucumber to the dill dip;
3. Dill Seed Dip: substitute dill seed for dill weed.
4. Add 2 – 3 Tablespoon crème fresh to dip combos for a richer mouth feel and a hint of sweetness.
Chive-Herb Dip
3 T minced chives or green onion tops
3 T blue cheese crumbles
2 – 3 T crème fresh (opt.) or 1 T olive oil
¼ tsp. dried rosemary powder
1 tsp fresh thyme, minced; or ¼ dried
¼ tsp. dried oregano (or more to taste)
¼ – ½ tsp. salt
¼ tsp. white pepper
To convert these dips to salad dressing for a green salad: add 2 T white wine vinegar and 4 T olive oil.