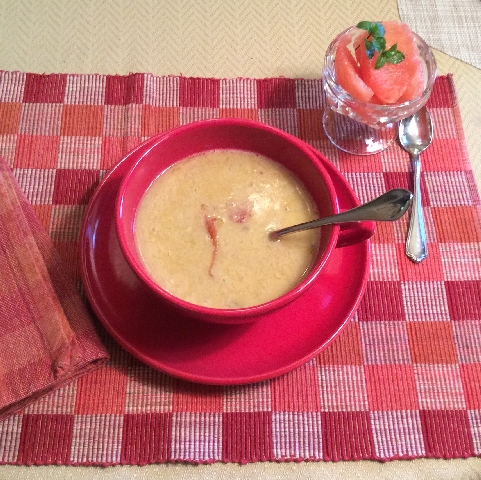 This soup is high protein and makes an easy entree.
This fish soup recipe is adapted from "Mrs. Wilkes Boardinghouse Cookbook: Recipes and Recollections from her Savannah …" (Ten Speed Press, 2002). Retaining both the skin and bones makes this especially nutritious, but you can remove them if you must.

Quick and Easy Salmon Soup
Ingredients
1 (14 3/4 oz.) can pink or red wild-caught salmon, drained, liquid reserved
4 – 6 T organic grass-fed butter or clarified butter (ghee)
3 cups fresh unprocessed whole-fat milk
or 1¼ cups homemade fish stock (or chicken bone broth) and 1 13.5 oz. can coconut milk
1 – 2 tsp. fresh lemon juice
1/8 tsp white pepper
¼ – ½ tsp. salt, to taste
Hot pepper sauce
Instructions
Gently melt butter or ghee on medium-low heat in a heavy saucepan.
Remove bones from salmon and crush them gently with a spoon.
Add bones and salmon flesh to the butter; break salmon into bits.
Add milk and reserved fish liquid and stir continuously while heating to a hot "eating temperature", do not boil.
Remove from heat.
Add seasonings to taste.
Garnish with finely chopped chives or paprika, if desired. For brunch, garnish with a piece of hot bacon.