No news is not necessarily good news. Because no one has told us about it, hardly anyone knows about a common health problem: the excessive oxalate we eat sets up as crystal pollution in tissues and organs. Invisible oxalate accumulation is an insidious source of damage.
As researcher Susan Marengo wrote in 2008, "unexcreted oxalate is stored in structural tissues and soft organs." Dr. Marengo was explaining that even healthy kidneys do not manage to completely clear oxalate loads coming into the bloodstream after oxalate-loaded meals and, as a result, dietary oxalate lands in non-kidney tissues all over the body. (Reference: Marengo, S. R., Zhang, A., & Traverso, E. J. (2008). Partitioning of 14C-oxalate excretion in rats during a persistent oxalate challenge. Urological Research, 36(6), 319–326. https://doi.org/10.1007/s00240-008-0155-3)
Other researchers have run into oxalate crystals in the eyes and thyroid gland and point out that such invisible oxalate accumulation is much more common than medical science believes.
Oxalate is not supposed to be hanging around in our flesh, skin, eyes, tendons, bones, and joint spaces, or in our kidneys. Yet it is. And, it can become a serious problem, especially for the heath of our immune systems. Our growing oxalate-aware community is seeing strong evidence of crystal accumulations in our bodies too.
Skin Release as part of Oxalate Clearing
Take for example Al, at age 70, read Toxic Superfoods at his daughter's suggestion. Like others, he too is seeing crystals coming out of his body after he quit the high oxalate foods. Here is how he put it:
I have several places on my skin around my body that are emitting oxalates. It is apparent in my eyes and the mole-like growths on my skin. Even a 1 by 2-inches patch of skin came off which had a texture of a mass of fine crystals mixed with a bit of skin. And, as soon as I stopped the oxalates, I was getting diarrhea. The worst thing is that my urinary tract has been hurting from my kidneys all the way out.

That proved beyond a doubt that my body is completely overloaded with oxalates. They have been itching to get out!
Years of Almonds Left Rebecca with a Lot of Oxalate to Clear
Rebecca started cutting back on her almonds and other high oxalate foods in the Spring of 2021 after listening to a podcast interview I had with KetogenicGirl. It was the first time she had heard anything about oxalates. She thought, "That is me!! What if that is my problem?"
By summer, spots appeared on her neck that took at least three weeks to go away. And later, she was having intense neck pain, and about a week into it, a lump in her neck became very swollen and started "opening up." When she massaged the areas, crystals emerged from her pores. The swelling and weeping skin on her neck expelled a variety of grit. The process moved all the way down both sides of her neck with a staged progression: first, sandy grit, then hard crystals that sometimes took a week or more to dislodge. Then there were crystals wrapped in sheets or calcium sheets—layer after layer after layer.
As Rebecca wrote: "They looked like they were folded up in the tissue like and accordion. Many nights I had to sleep with a cloth around my neck with castor oil because it would otherwise stick to my pillow case . It was quite awful. Between the months of October through mid-December the process moved to my face which I was praying would not happen. Since the massive release of crystals from my neck, my neck pain is so much better. My shoulders are getting better. I can see the end slowly coming for my chin and upper lip to get better. I am slowly healing . . ."
Oxalate Crystals are Hard for Pathologists to See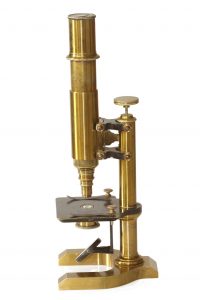 In medical science, the phenomenon of bodies expelling crystals after taking oxalate out of their diets is entirely unknown. When my clients tell their doctors about it, a dismissive comment and no curiosity is the usual reply.
Even pathologists don't notice oxalate crystals when examining tissue samples under the microscope. Without polarized light and specific chemical testing, the identification of oxalate is challenging to say the least. Randomly oriented and fragmented crystals are hard to see and difficult to interpret. They look like minuscule debris or bits of the mounting medium. This poor visibility in ordinary microscopy accounts for the failure to notice and identify oxalate when unsuspected. This problem is well described by pathologist Gregory A. Fishbein and colleagues, in their 2008 paper "Atherosclerotic Oxalosis in Coronary Arteries," in the Journal of Cardiovascular Pathology : The Official Journal of the Society for Cardiovascular Pathology. https://doi.org/10.1016/j.carpath.2007.07.002.