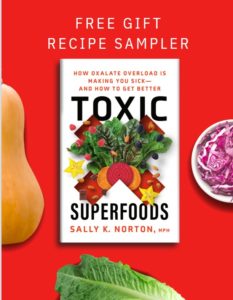 Thanks for visiting to receive your free gift. Click the "Add to Cart" button here to get a collection of twelve useful low-oxalate recipes to complement my book, Toxic Superfoods. When you check out, you will receive a download link to get the document (no payment required).

You can find other resources on pages throughout this website (see the menu above) and in my download shop. The free Symptom and Exposure Inventory will help you recognize that oxalates may be playing a role in your own health. And my Beginners Guide will help you make a safe and effective transition to low-oxalate eating. (You can get the Beginners Guide for free using a coupon you'll receive a week after joining my email list – click the "Sign Up" button to the right.)
If you like the recipes in the free gift, please also consider getting a copy of my PDF cookbook, which has 180 additional low-oxalate recipes.
Finally, if you'd like to join me and others on a low-oxalate journey, I offer online groups via Zoom every month to talk about issues with oxalates and low-oxalate eating. You can see the schedule and sign up at https://sallyknorton.com/support.