Fish broth and fish soup is the easiest of all soups.  Fish heads provide many nutrients including many minerals, especially iodine, which is necessary for healthy thyroid function.  Save up your shrimp shells for your broth (optional).

Fish or Seafood Broth
Servings: Makes 3 quarts, serves 8 - 12
Time: Prep time: 10 minutes Total Time: 4 - 20 hours
Difficulty: Medium
Ingredients
3 lbs. of fish heads with or without the body skeleton, snapper or rock fish are good choices. Do not use oily fish types, such as salmon.

Shrimp shells, about 4-5 cups in volume (optional)

Cool filtered water, about 3 – 4 qts.
1 large onion
thyme, fresh– several sprigs or about 2 tsp. dried leaf
(for an Asian-flavored broth, use white pepper corns, an inch of fresh ginger root, and or other spices)
2 bay leaves
2 T each: rice vinegar and apple cider vinegar or lemon juice,
½ cup dry white wine
3 1-qt. canning jars with lids
Preparation
Place the onion, herbs, fish heads, vinegar, and wine in a crockpot or large heavy pot on the stove top.
Add filtered water.
Set heat to medium-low. Bring to a light simmer.
Lower heat and allow to lightly simmer for 4 – 20 hours. Note: the cooking time is not precise; adjust to fit your schedule.
Set a large metal colander in a large bowl. Carefully lift the solids out of the broth pot into the colander using a long-handled pan strainer as sold at Asian grocery stores.
Set out 3 very clean 1-quart glass jars. Set a metal canning funnel over a jar and place a mesh strainer in the funnel. Carefully ladle the hot broth into the jars, through the strainer. Watch to avoid over-filling the jars. Seal jars with tight sealing lids. Use a hot pad or damp cloth to safely grip the hot jars.
Allow the bones to cool for 10 minutes then remove the meat from the bones. Meat can be used like canned tuna. Once cooled, discard the bones.
Store the broth in the refrigerator for up to four weeks. If broth is very hot when poured into jars, it keeps a very long time in the refrigerator. If the broth is allowed to cool, it will only keep for four to seven days.
Add salt when using to make soup or other dishes.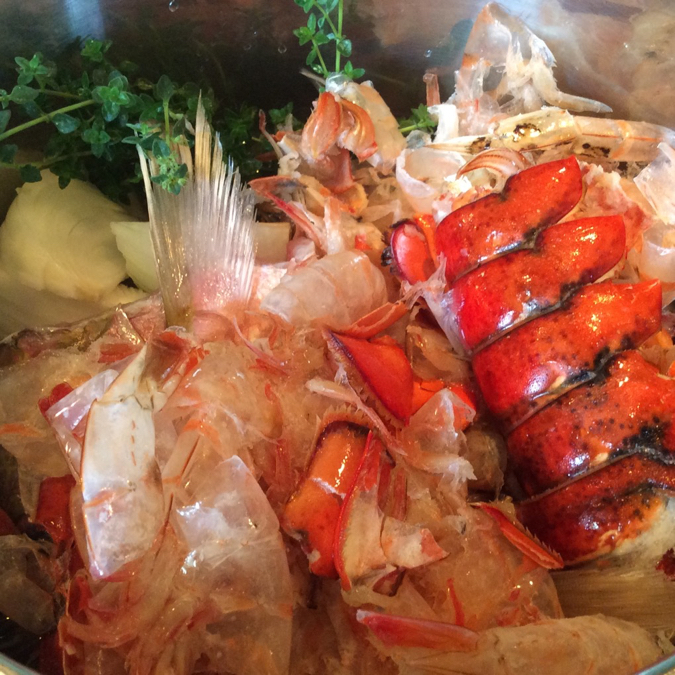 Fish Broth Getting Underway
Thyme, Onion, Shrimp and Lobster Shells. Snapper Heads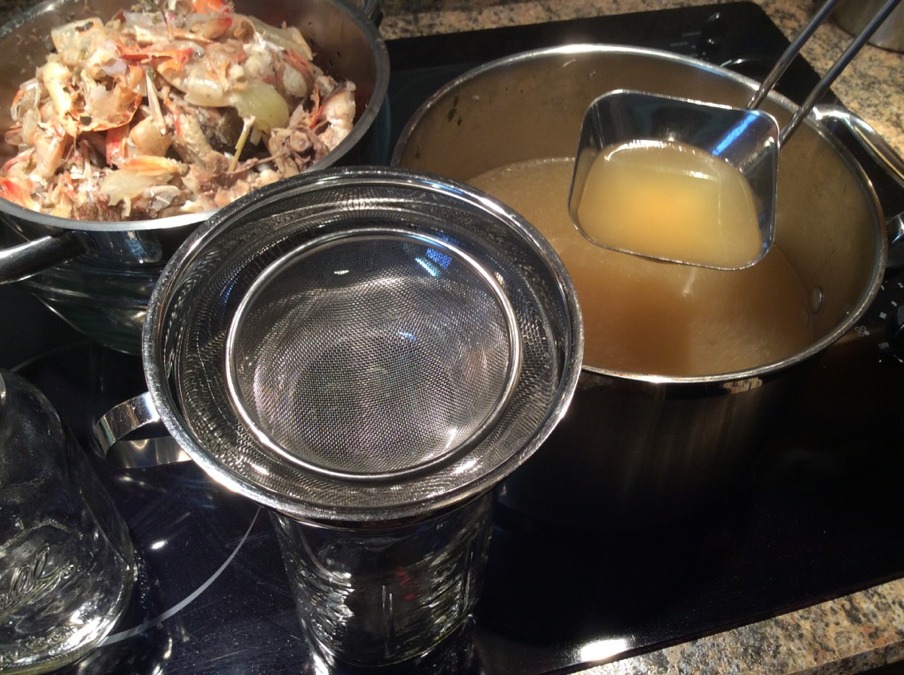 Ladle Hot Broth Through Strainer into Jars