Delicious and Healing
Making and using broth is a lost art in most modern kitchens. Yet around the world, over thousands of years, broth has maintained a reputation for being restorative, healing, comforting, and delicious. This makes sense, if you remember that the body is mainly made of collagen and water. Homemade broth delivers these key nutrients and more.
Nutrition for Connective Tissues
There has been little formal scientific study of broth, but we do know that it is an excellent source of the nutrients we need for healthier, sturdier bodies.
The nutrients in broth help to build and replenish connective tissues. Connective tissues are a critical component of your body. For example, every single muscle cell, every blood vessel, and every nerve cell is encased in connective tissue. Connective tissue serves several vital functions simultaneously, including the transport of nutrients and metabolites, immunological defense, and flexible mechanical support. Connective tissues may even play a role in the body-wide energetic and communication systems that make up "the living matrix."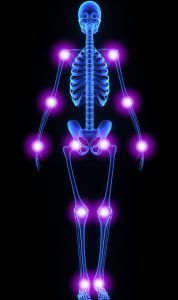 In making bone broth we turn bits of bones, meat, cartilage, tendons, ligaments and skin into a nutrient rich, digestible, and nourishing food that supports the rebuilding and rejuvenation of joints, bones, and just about every other tissue in the body—including arteries, eyes, the nervous system, the digestive tract, and the immune system.
Connective tissue stability and poor joint health are problems for many people. Conventional thinking contends that joint problems are inevitable with aging and that the damage is a irreparable and irreversible. We used to think the same about nerves and brain tissue. Yet, now we know that nerves and brain tissue can slowly regenerate. Connective tissues can too.
Cartilage and Collagen
Cartilage is living tissue made up of cells called chondrocytes. These chondrocytes make and secrete molecules that create an interlocking mesh of fibrous proteins (collagen, elastin, and fibronectin), carbohydrate polymers called glycosaminoglycans, and hyaluronic acid (especially in load-bearing joints). This mesh provides structural and biochemical support to the surrounding cells. These molecules do a lot—including holding the cells in place, facilitating cell-to-cell communication, and helping with immune defense.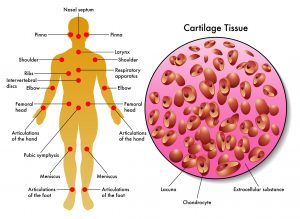 Chondrocytes produce so much collagen that it is the most common protein in the body.  Collagen forms large triple stranded ropes that bind bones and other tissues to each other, and provides toughness and tensile strength. It is especially abundant in cartilage, skin, ligaments, tendons, intervertebral discs, bones, the cornea, internal organs, and blood vessels.
Bone Broth Feeds Connective Tissues
Bone broth is essentially an extract of the components of cartilage and connective tissues. Broth contains the amino acids and other molecules that make up collagen, proteoglycans, and other structures in cartilage. Bone broth is an ideal way to feed your chondrocytes and allow them to do their job—creating, maintaining, and regenerating the all-important connective tissue.
Oxalates Harm Connective Tissues – Can Broth Add to a Vicious Cycle?
In the body, oxalates create free radicals that damage tissues, and that may accelerate the breakdown of connective tissue components such as hyaluronic acid.  Such breakdown may lead to connective tissue instability (as with my own feet, back, and elbow) and interfere with tissue repair and healing. Broth is the most digestible and nutritionally complete dietary source for connective tissue "feeding." So, broth may help to correct for some of the connective tissue problems caused by oxalates in the body. But just eating broth will not compensate for damage from oxalates.  Limiting consumption of dietary oxalates is important for stabilizing connective tissues and helping broth work its magic.
There is the possibility, however, that eating too much bone broth might have downsides if it causes an increase in internal production of oxalates in the body. This is because hydroxyproline, the active form of the amino acid proline and one of the four main amino acids in broth, is a metabolic precursor of oxalate.
Studies using rats suggest that excessive intake of proline or hydroxyproline can lead to increased internal production of oxalate. It is thus possible that connective tissue breakdown (from any cause) or excessive amounts of connective tissue consumption from broth could both increase oxalate production in the body.  However, the metabolic effects of broth consumption have not been studied; the suggestions here are based on extrapolations from animal studies of amino acid metabolism.  Nevertheless, anyone with a history of calcium-oxalate kidney stones or other oxalate-related health conditions may want to limit broth consumption to one meal per day in moderate portions as a precaution.
Broth Worked Wonders for Me
There are centuries of anecdotal evidence of the healing power of broth. Regardless of my own issues with oxalates, regular use of bone broth in my cooking has worked beautifully for me. Adding bone broth to my diet gradually restored my height after having lost well over one inch in my 20s while on a vegetarian diet. The vegetarian diet lacked the combination and quantity of nutrients my joints and spinal discs needed. Consistently adding home-made bone broth to my diet corrected this deficiency. Soup saved my back.
Summary
Bone and meat broth provides delicious nourishment. It is a classic food in need of revival. Regular use of bone broth is great for economical cooking, for great-tasting food, and for bone, joint, and skin health. This dietary back-bone has a long history of safety and efficacy, and, should be one of your kitchen "fundamentals."
Get an overview of how to make broth.
How to make chicken broth.
How to make seafood broth.